LED 60W 80W UV Work Light
Product Detail
Feedback now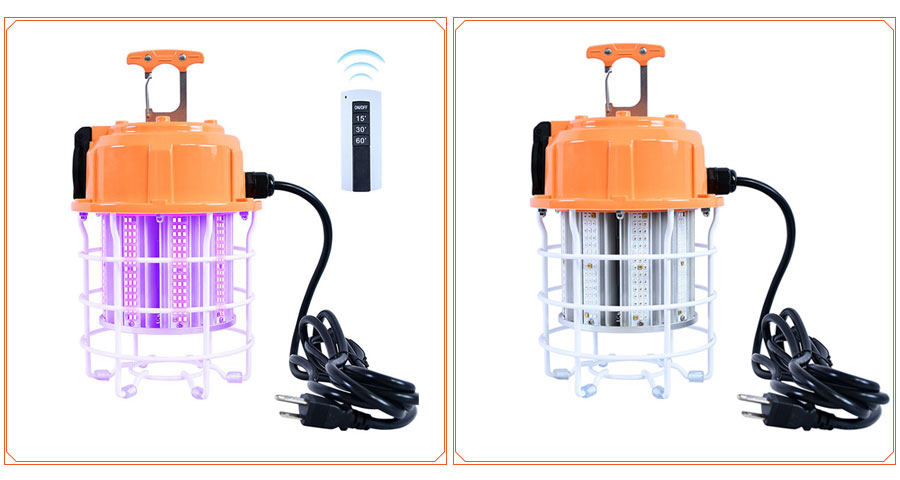 | | |
| --- | --- |
| Name | UV-LED WORK LIGHT |
| Item NO. | YL-UV60/80 |
| Rated Power | 60w/80w |
| Rated Voltage | 120v/230v |
| Frequency | 50/60Hz |
| Wavelength | 250-285nm |
| Usage | Indoor |
| Control Mode | Remote control |










Remote control
Direction for use
1.When the lamp is powered on means it's standby;
2.Press the on / off key on the remote control, the buzzer rings twice in succession to enter the power on state (it is equivalent to pressing the power on key twice in 2 seconds);
3.Within 5 seconds of starting the machine, select the timing time (15 minutes, 30 minutes,60 minutes), press the corresponding key, and the buzzer will ring to indicate that it is selected. (if not selected, the default system time is 60 minutes)
4.After 5 seconds of power on, it enters 20 seconds countdown, the interval of buzzer ring gradually decreases, and the last few seconds keep ringing;
5.After 20 seconds of countdown, the buzzer is turned off and the lamp is on;
6.When the time is up or the switch key is pressed, the lamp is turned off and the system enters the standby state;





1. When the lamp is working, cannot see the UV light directly,avoid ultraviolet radiation damage to skin and eyes.
2. After turn on the lamp, please leave the room within 10s. people, pet and plants cannot around Take away or cover the Calligraphy and painting or anything which not allow be shined on to avoid damage by the UV light when use this product.




● QUALITY: Material inspection before production; 24-hour aging testing before shipment; Less that 0.3 defective rate.
● PERFORMANCE: ETL/ cETL/ DLC/ CE/ ROHS/ FC certificated; Different environment tested; ISO quality management system.
● FULL SERVICE: Provide OEM and ODM service; Provide 5 years warranty for ETL/ DLC/ CE listed products; Professional sales team, 24-hour online service.
● WORLD: Export to most parts of globe, such as USA, Canada, UK, Germany, Norway, Finland, Australia, etc.
All prototype products have to go through 4 checks in the whole process:
1. Raw material inspection
2. In processing inspection
3. Final inspection
4. Outgoing inspection
FAQ:
| | |
| --- | --- |
| How does Ultraviolet light work? | UV-C exposure to microorganisms, destroy the DNA & RNA of bacteria virus to make them lose their viability and Multiplication, so as to achieve the effect of disinfection and sterilization |
| ls this disinfecting lamp really effective? | At Present, most of the hospital use the UV lamp for cleaning and disinfecting this products designed for normal house use purport have great performance for disinfection and getting rid of smell, even some of the users describe the house smells like living in the sunshine. |
| Can the lamp use quilt disinfection? | Yes, the light of this lamp can be treat as sunshine ray. Especially when the weather is keep raining or difficult for quilt disinfection in sunshine, you can use this UV lamp instead simply. |
| Whats the working life of the lamp? | The lamp can work for about 8000 hours. |